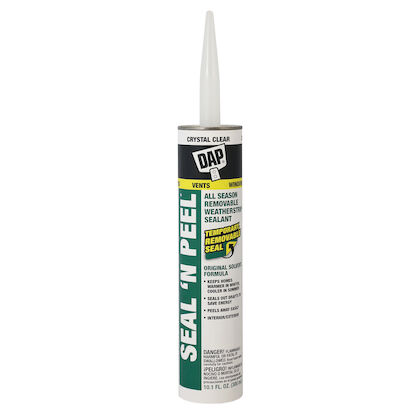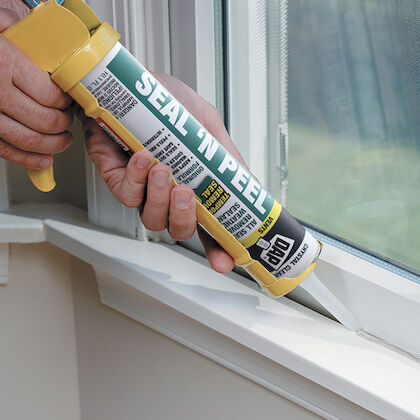 SEAL 'N PEEL® ORIGINAL WEATHERSTRIPPING
Best For:
Removeable, seasonal weatherstripping product for temporarily sealing drafty windows, doors, air conditioners, vents or fans to save energy and improve comfort.
Key Features
Seals out drafts to save energy
Specifications

| SKU | Code | Unit Size | Color | Dimensions (in.) | Weight | Case Pack | Cases/Pallet |
| --- | --- | --- | --- | --- | --- | --- | --- |
| 7079818351 | 18324 | 10.1 FL OZ | CRYSTAL CLEAR | 8x6x12 | 9.27 lbs. | 12 | 108 |
FAQs

How long is the shelf life on this product?

A minimum of 12 months from the date of production in an unopened tube.

Is this sealant paintable?

No. You should not paint over Seal n' Peel. Applying paint over Seal n' Peel makes it more difficult to remove.

What size bead is recommended?

No larger than ¼" is recommended. DO NOT SMOOTH OR TOOL the bead. SEAL N' PEEL is meant to be a topical temporary weather strip. It is not recommended to fill in all gaps and cracks, rather seal over top of those gaps and cracks. If necessary, use backer rod in gaps deeper than ¼".

Is this for interior use?

SEAL N' PEEL can be used on interior and exterior applications. However, if used on interior applications, it does have a strong odor and is recommended to be applied in proper ventilation.
description
Find Resources
Find what you need for your next job or project.
Search Resources
person
Customer Support
Our team of highly trained customer support staff is here to help with either product or project advice.
Contact Us