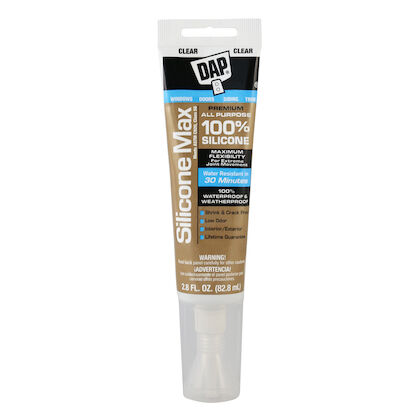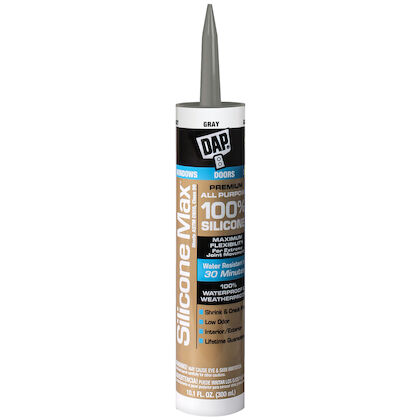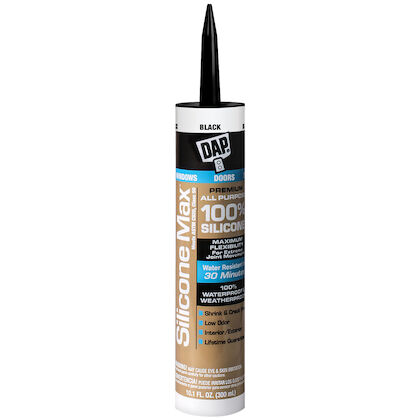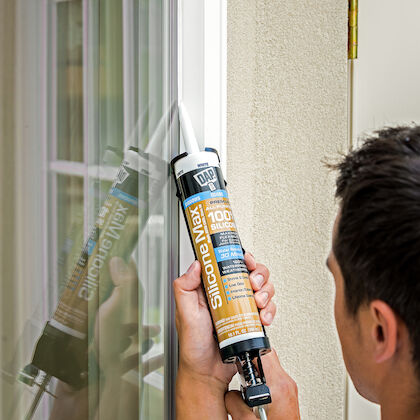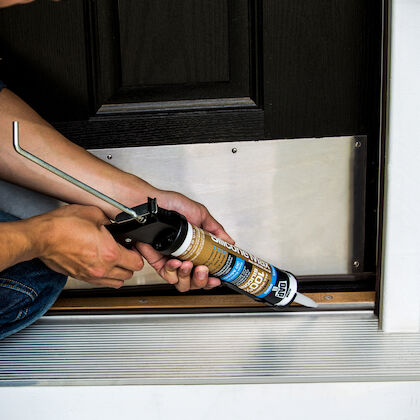 SILICONE MAX® All Purpose
Best For:
Premium all purpose 100% Silicone Sealant provides maximum flexibility and adhesion to withstand extreme expansion and contraction caused by temperature and weather fluctuations. It has twice the joint movement capability of many other sealants so it won't crack or shrink, providing a durable, 100% waterproof and weatherproof seal. It is rain and water ready in just 30 minutes and is ideal for a wide variety of applications such as sealing around windows, doors, siding and trim. Silicone Max has a lifetime guarantee and meets ASTM C920, Class 50, for interior/exterior use.
Key Features
Lifetime Guarantee

Rain Ready Time

For Maximum Flexibility & Adhesion
Specifications

| SKU | Code | Unit Size | Color | Dimensions (in.) | Weight | Case Pack | Cases/Pallet |
| --- | --- | --- | --- | --- | --- | --- | --- |
| 7079808787 | 08787 | 10.1 FL OZ | LIGHT GRAY | 8x6x12 | 9.94 lbs. | 12 | 108 |
| 7079808789 | 08789 | 10.1 FL OZ | BLACK | 8x6x12 | 9.94 lbs. | 12 | 108 |
| 7079808790 | 08790 | 10.1 FL OZ | WHITE | 8x6x12 | 9.94 lbs. | 12 | 108 |
| 7079808791 | 08791 | 10.1 FL OZ | CLEAR | 8x6x12 | 9.74 lbs. | 12 | 108 |
| 7079808792 | 08792 | 2.8 FL OZ | CLEAR | 7.56x5.68x8.25 | 2.75 lbs. | 12 | 200 |
FAQs

How long is the shelf life on this product?

A minimum of 24 months from the date of production in an unopened tube

Why is extreme joint movement important for SILICONE MAX All Purpose Sealant?

Weather and temperature conditions cause a home to expand and contract which can lead to a sealant losing adhesion and cracking. SILICONE MAX is formulated to have maximum flexibility so it's able to withstand extreme joint movement without cracking or losing adhesion. This means a durable, long-lasting seal.

Are DAP SILICONE MAX Sealants paintable?

No, silicone sealants are not paintable.

Where can SILICONE MAX All Purpose Sealant be used?

DAP SILICONE MAX is a versatile, all purpose sealant ideal for sealing out air and water in a wide variety of applications such as around windows, doors, siding, trim, flashing, gutters, vents and pipes. It can be used both indoors and out.

How do I clean up excess uncured silicone sealant?

Excess uncured silicone sealants should be cleaned up from surfaces or tools with mineral spirits. Cured sealant must be cut or scraped away from surfaces. Use soap and water to clean uncured sealant from skin.

What does 30 minute water ready mean?

You can expose the bead of sealant to water or rain in just 30 minutes from application and the sealant will not wash out or get permanent marks. This means time saved.

What is the benefit of using a squeeze tube?

The 2.8 fl.oz. squeeze tube doesn't require the use of a caulk gun. It is ideal for sealing in tight, hard to reach spots or for smaller jobs.
description
Find Resources
Find what you need for your next job or project.
Search Resources
person
Customer Support
Our team of highly trained customer support staff is here to help with either product or project advice.
Contact Us