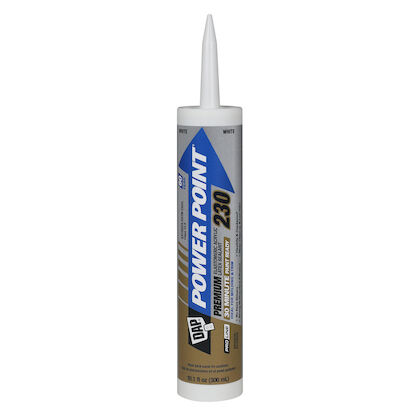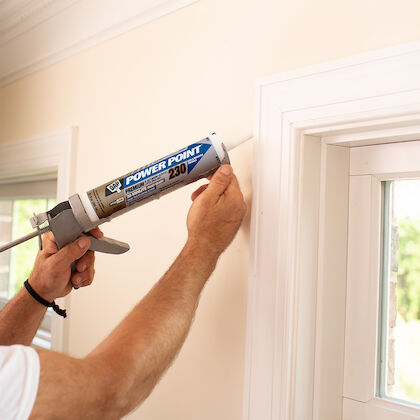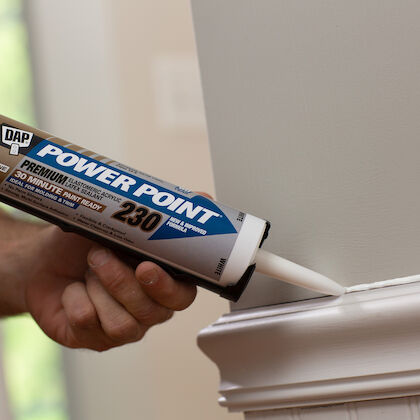 DAP® POWER POINT® 230 Advanced Elastomeric Acrylic Latex Sealant
Best For:
DAP POWER POINT 230 ADVANCED ELASTOMERIC ACYRYLIC LATEX SEALANT is specifically formulated for demanding interior and exterior applications, especially molding & trim applications. It delivers excellent adhesion & flexibility for a crack proof seal. It is easy to apply and tool in any climate and is paintable in just 30 minutes. It provides a durable, long lasting seal that will not shine through or discolor paint. Waterproof & weatherproof. Cured sealant is mold & mildew resistant. 60 Year. Exceeds ASTM Specification C920, Class 12.5. Interior/exterior use.
Key Features
Paintable in 30 Minutes

Crackproof Guarantee

Exceeds ASTM C920, Class 12.5

60 Year Guarantee
Specifications

| SKU | Code | Unit Size | Color | Dimensions (in.) | Weight | Case Pack | Cases/Pallet |
| --- | --- | --- | --- | --- | --- | --- | --- |
| 7079818800 | 18800 | 10.10 FL OZ | WHITE | 8x6x12 | 12.81 lbs. | 12 | 108 |
FAQs

Where can I use DAP® POWER POINT® 230?

DAP® POWER POINT® 230 acrylic latex caulk is ideal for filling and sealing gaps and cracks around window and door frames, molding, trim, baseboards, corner joints, and more. It has excellent adhesion to painted and unpainted wood, aluminum, vinyl, metal, brick, drywall, concrete and masonry.

What is the paint ready time for this product?

DAP® POWER POINT® 230 is paintable in 30 minutes.

What is the maximum joint size for applying DAP® POWER POINT® 230?

The joint size shouldn't exceed ½" wide by ½" deep. If the joint depth exceeds ½", insert foam backer rod material into the joint before applying the sealant.

How long is the shelf life on this product?

A minimum of 12 months from the date of production in an unopened tube

Can I use this in a shower?

No. The product is not applicable for use in a bath or shower.

What is the recommended clean-up for DAP® POWER POINT® 230?

Before drying, they can be easily removed with soap and water. After the caulk has dried, it will need to be cut or scraped away.
description
Find Resources
Find what you need for your next job or project.
Search Resources
person
Customer Support
Our team of highly trained customer support staff is here to help with either product or project advice.
Contact Us