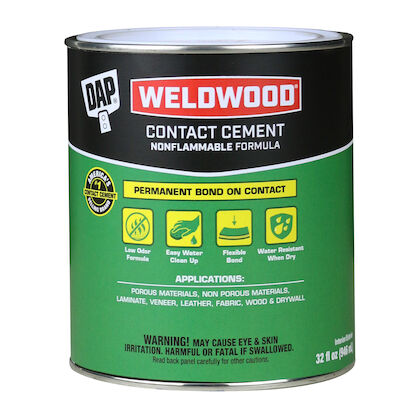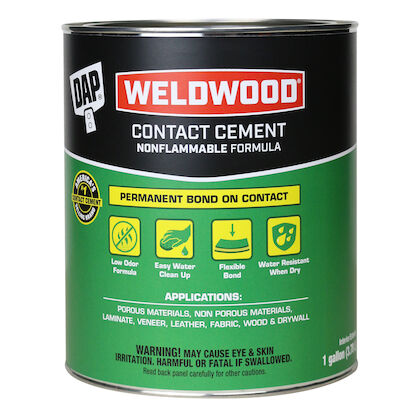 Weldwood® Nonflammable Contact Cement
Weldwood Nonflammable Contact Cement is a high solids polychloroprene, waterborne contact adhesive that meets the stringent requirements of the professional user. Complies with all current VOC requirements. Dries in 60-70 minutes, allowing for extra bonding time. Water resistant when dry. Exceeds industry performance requirements. Low odor. Easy water clean-up.
Key Features
Permanent Bond

High Heat Resistant

Water Resistant

Interior/Exterior
Specifications

| SKU | Code | Unit Size | Color | Dimensions (in.) | Weight | Case Pack | Cases/Pallet |
| --- | --- | --- | --- | --- | --- | --- | --- |
| 7079825332 | 25332 | 32 FL OZ | NATURAL | 13.5x8.75x5.25 | 15.75 lbs. | 6 | 144 |
| 7079825336 | 25336 | 1 GA | NATURAL | 13.5x13.5x8 | 39.25 lbs. | 4 | 45 |
FAQs

Can I use this cement to bond laminate over existing laminate?

When using water-base d contact cements, at least one surface to be bonded must be porous. To install laminate over laminate, please refer to our Original or Gel Formula Contact Cements.

Can I stick the two surfaces together; can I use body weight to achieve a good bond?

Once surfaces are joined, 25 lbs. per square inch of pressure should be evenly applied to surface starting in center and working out to edges. This is equivalent to 75 lbs. of pressure being applied to a 3-inch "J" roller. Apply as much pressure as possible, being careful not to crush/damge the materials. Insufficient pressure may allow blisters or bubbles to form later.
description
Find Resources
Find what you need for your next job or project.
Search Resources
person
Customer Support
Our team of highly trained customer support staff is here to help with either product or project advice.
Contact Us