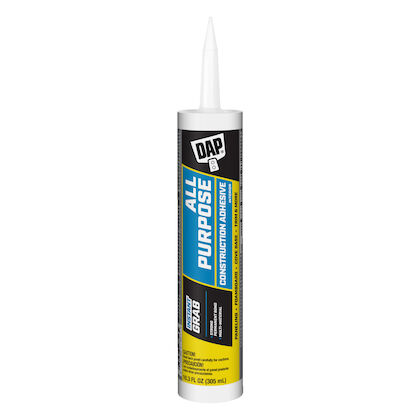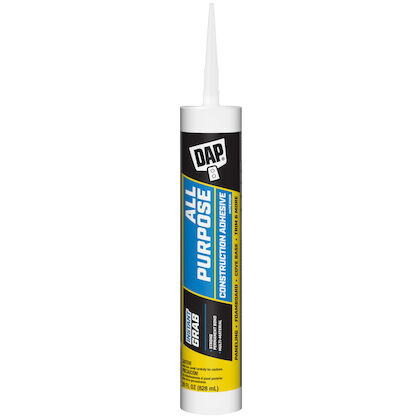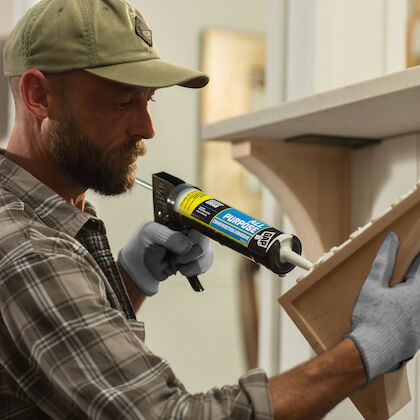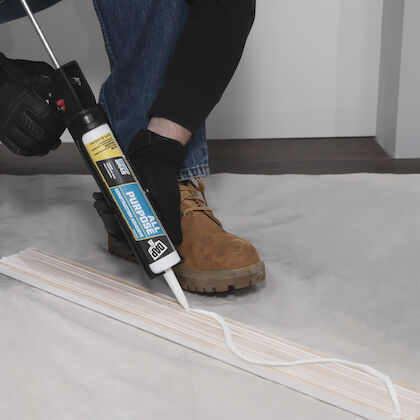 DAP® All Purpose Construction Adhesive
DAP ALL PURPOSE construction adhesive is a premium grade adhesive ideal for paneling, foamboard, cove base, trim & more. DAP ALL PURPOSE delivers a strong, permanent bond on common building materials.
Key Features
Instant Grab

Strong Permanent Bond

Multi-Material

VOC Compliant
Specifications

| SKU | Code | Unit Size | Color | Dimensions (in.) | Weight | Case Pack | Cases/Pallet |
| --- | --- | --- | --- | --- | --- | --- | --- |
| 7079827501 | 27501 | 10.3 FL OZ | WHITE | 8x6x12 | 13.58 lbs. | 12 | 108 |
| 7079827502 | 27502 | 28 FL OZ | WHITE | 10.5x8x17 | 35.78 lbs. | 12 | 60 |
FAQs

Can this product be used in cold weather?

For best results, product should be applied in temperatures between 40° – 100°F. Keep adhesive above 40°F for easier gunning.

Can the product be used on non-porous surfaces?

Because it is a water-based adhesive, one of the two surfaced must be porous/absorbent.

Are DynaGrip adhesives VOC compliant?

All of the adhesives in the DynaGrip product line are VOC compliant in all districts and states in the U.S. with the exception DynaGrip 4000 Subfloor.

How does temperature & humidity affect DynaGrip adhesives?

Extreme temperatures and humidity may affect any adhesive's ability to cure. The effect will differ from one product to the next, so for best results, refer to the individual product page or the product label for appropriate temperature ranges. In general, extreme cold may slow or prevent latex based adhesives from curing and will increase the force required to gun latex and some solvent-based adhesives. High humidity may slow cure time for latex-based adhesives, but will accelerate the cure time of hybrid adhesives such as DynaGrip Heavy Duty MAX.

How do I clean excess adhesive from surfaces?

In general, latex-based adhesives can be removed with warm water and soap while still wet. Cured product must be cut or scraped away. Solvent, polyurethane & hybrid adhesives require the use of mineral spirits to clean up wet adhesive from surface and tools, taking care to follow solvent manufacturer's precautions. Do not use mineral spirits to clean skin. Cured product must be cut or scraped away.

What does "VOC" stand for?

Volatile organic compounds (VOC) means any compound of carbon, excluding carbon monoxide, carbon dioxide, carbonic acid, metallic carbides or carbonates and ammonium carbonate, which participates in atmospheric photochemical reactions, except those designated by EPA as having negligible photochemical reactivity. You can also refer to our interactive online guide for more information on VOC regulations.

What does "open time" mean?

Open time is the amount of time you have between applying an adhesive and the point at which you should place the two materials you're attempting to bond together. Waiting longer than the open time provided on the product label will compromise the strength of the cured bond.

What does "skin time" mean?

Skin time refers to the amount of time after a bead of adhesive is applied before the top layer of the bead hardens or "skins" and can no longer effectively grab a second surface.

What is "Instant Grab"?

Instant grab refers to an adhesive's ability to instantly hold two surfaces together without falling apart. Don't mistake instant grab for strength or cure speed—an adhesive that instantly holds two surfaces together does not necessarily have a strong bond once cured, so it's important to look at the product specifications and Technical Data Bulletin (TDB) to evaluate whether a particular instant-grab adhesive is right for your project.
description
Find Resources
Find what you need for your next job or project.
Search Resources
person
Customer Support
Our team of highly trained customer support staff is here to help with either product or project advice.
Contact Us