DIY Spooky Crafts for Halloween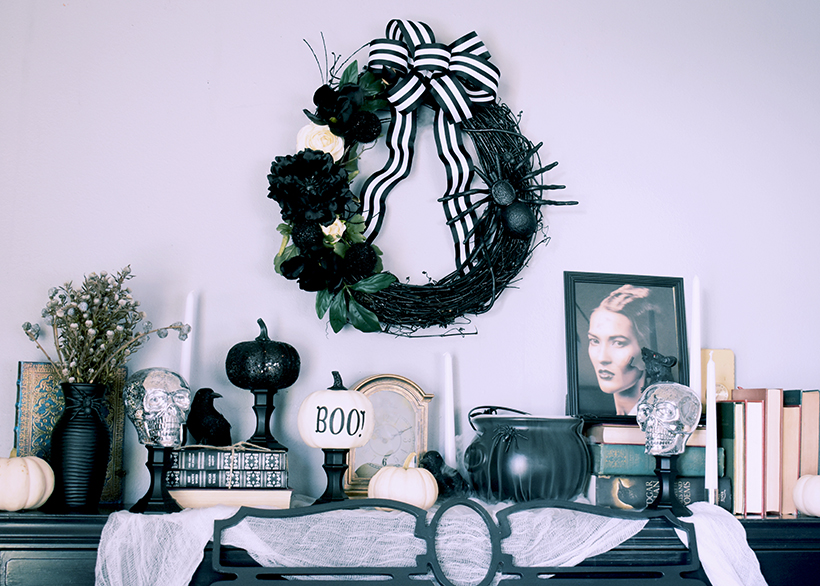 Materials
grapevine wreath
faux flowers in black and white
black and white ribbon
a package of faux spiders
one large glitter spider
clear glass candlesticks
matte black spray paint
any faux pumpkin or skull Halloween decor
clear glass vase
Sometimes the scariest thing about Halloween decorations is the price...but it doesn't have to be with these spooky do it yourself alternatives. Stand out from your neighbors with these haunting household additions!
WREATH INSTRUCTIONS:
1. You can get everything you need to make this sophisticated Halloween wreath in any craft store. Start with a grapevine wreath ($5), faux flowers in black and white ($4-10), some black and white ribbon ($2.50), a package of faux spiders ($1), and one large glitter spider ($1). Cut the long stems off of all faux flowers, leaving about 1.5" of stem attached to the flower. For thicker stems, you may need to use a wire cutters. Cut all of the faux leaves off the stems and set aside.
2. Arrange your flowers and leaves on the wreath to figure out the best placement first. Then use DAP RapidFuse to attach the flowers and leaves to the wreath. Apply a generous amount of RapidFuse to the back of the flower and poke the shortened stem into the wreath, pressing the flower down for 30 seconds.
3. Place spiders around the wreath, or hide one inside a faux flower, and use RapidFuse to attach.
4. Using RapidFuse, attach your large glitter spider. 5. Create a bow and use RapidFuse to attach to the top of your wreath.
CANDLESTICK / DECOR
1. Start with clear glass candlesticks ($1 ea.), and paint with matte black spray paint. Let dry.
2. Use any faux pumpkin or skull Halloween decor from the holiday decor section of the craft store.
3. Use RapidFuse to attach the decor to the painted glass candlestick.
SPOOKY VASE
1. Start with a clear glass vase ($1 ea.) and paint with matte black spray paint. Let dry.
2. Embellish with plastic/ rubber spiders using RapidFuse.