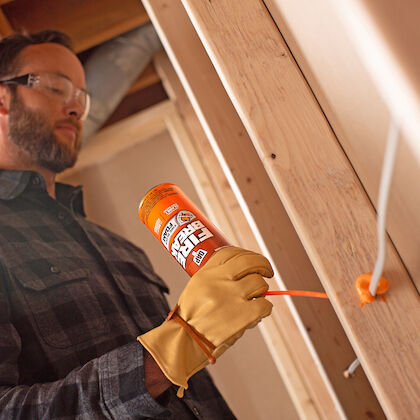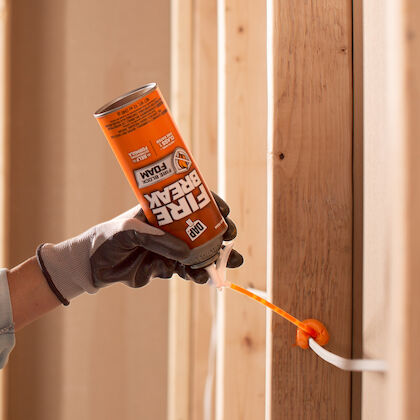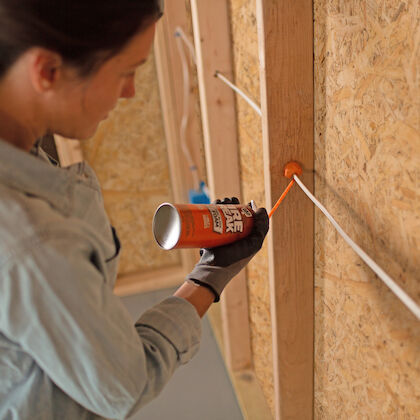 FireBreak® Flame Resistant Sealant
Best For:
Flame-resistant all-purpose, Class 1 fire-retardant one-component foam sealant that exceeds testing standards, is self-extinguishing and works by eliminating oxygen flow in service penetrations, where fire spreads most quickly. 
Key Features
Self-Extinguishing

Fire Blocking

ICC

Reusable Adapter + Bonus Straw
Specifications

| SKU | Code | Unit Size | Color | Dimensions (in.) | Weight | Case Pack | Cases/Pallet |
| --- | --- | --- | --- | --- | --- | --- | --- |
| 7565010012 | 10012 | 12 OZ | ORANGE | 11.5x8.5x9 | 12.95 lbs. | 12 | 108 |
FAQs

How does foam sealant compare to other types of insulation?

Unlike caulking materials and other sealants that are solid, heavy and non-insulating, foam sealants expand to form an outer skin that contains closed air cells that provide an effective barrier against energy loss. DAP Foam forms a permanent seal that will not shrink or pull away from the material it has bonded to, making foam the best sealant available against air and moisture infiltration.

Is DAP Foam fire retardant?

Yes. DAP Foam sealants meet the criteria of flame / smoke spread to be classified as a Class A foam. While these sealants are fire retardant (self-extinguishing when flame is removed), they are not intended to be used a fire barrier or fire stop.

Is DAP Foam waterproof?

DAP Foam sealants are water-resistant, however they are not intended for use in submerged/below-waterline applications.

Can DAP Foam be used to insulate a wall?

No, DAP Foam insulating sealants are formulated to fill cracks, gaps and small voids. The project requires ventilation and humidity to cure. Larger voids may not allow enough air or moisture penetration for proper curing. DAP Foam products should not be used in any closed cavity that limits air/moisture exposure or the ability of the product the free rise (expand).

Can DAP Foam be used outdoors?

We recommend Landscape Foam for exterior applications. Landscape will not discolor or break down in sunlight like other foams. It is plant and fish safe, and the dark color blends into shadows well. MaxFill and Home Seal formulas may also be used indoors or outdoors. These foams should be painted when used outside in order to prevent discoloration and break down from UV exposure. DAP Foam can be painted in about one hour after dispensing. Touch 'n Foam No Warp, Fire Break and Mouse Shield should be used indoors only.

How do I store DAP Foam?

To store unused portion, bend straw back & attach to the knob atop the dispensing trigger. Store can upright below 90°F & above freezing temperature. Never store DAP Foam in your vehicle.

Can I reuse DAP Foam?

DAP Foam is reusable for up to three weeks after initial use. To store unused portion, bend straw back and attach to the knob atop the dispensing trigger. Store can upright below 90°F. Reuse product within three weeks. To re-use, cut the end off the straw (removing any cured foam), shake well and apply as directed.

Do surfaces require any special preparation before applying DAP Foam?

Application surface must be clean, dry and free of all foreign material.
description
Find Resources
Find what you need for your next job or project.
Search Resources
person
Customer Support
Our team of highly trained customer support staff is here to help with either product or project advice.
Contact Us