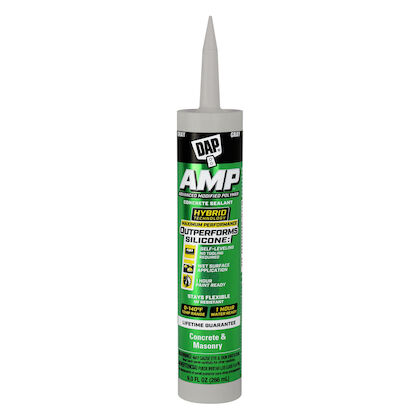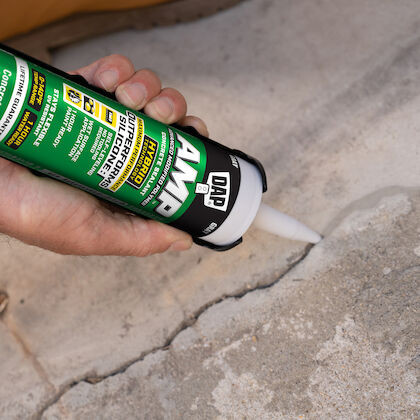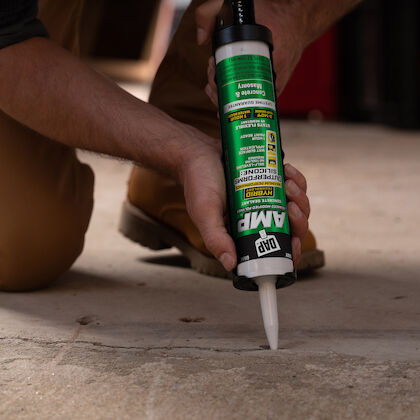 AMP Advanced Modified Polymer Self -Leveling Concrete and Masonry Sealant
AMP Advanced Modified Polymer Self -Leveling Concrete and Masonry Sealant provides a 100% weatherproof and waterproof seal with the ability to be applied on wet and damp surfaces. It has a fast 1 hour paint and rain ready time and meets ASTM C920, Class 25. For use on horizontal surfaces only, interior or exterior.
Key Features
Extreme Temperature Use

Wet Surface Application

Paint & Rain Ready
Specifications

| SKU | Code | Unit Size | Color | Dimensions (in.) | Weight | Case Pack | Cases/Pallet |
| --- | --- | --- | --- | --- | --- | --- | --- |
| 7079800764 | 00764 | 9 FL OZ | GRAY | 8x6x12 | 13.12 lbs. | 12 | 108 |
FAQs

Where can I use AMP Self-Leveling Concrete and Mortar Sealant?

AMP Self-Leveling Concrete and Mortar Sealant can be used to fill and seal horizontal gaps and cracks in concrete driveways, steps, patios, sidewalks, garages, above ground foundations and other concrete surfaces.

What types of materials can I use AMP Self-Leveling Concrete and Mortar Sealant?

AMP Self-Leveling Concrete and Mortar Sealant has strong adhesion to concrete, mortar, masonry, stone, brick, wood, stucco, and most building materials.

What does self-leveling mean?

AMP Self-Leveling Concrete and Mortar Sealant self-levels, which means the sealant will flow to fill a horizontal crack or gap and form a level surface. No tooling is required for a smooth, level finish.

When is AMP Self-Leveling Concrete and Mortar Sealant water and rain ready?

AMP Concrete and Mortar can be exposed to water and rain in just 1 hour when applied with a bead size maximum of 3/16" in a 65°F and humidity of 50% minimum. AMP will not wash out or become damaged by permanent water and rain marks, eliminating the worry of a ruined caulk job and having to reapply. This is significantly shorter compared to other sealants which typically require anywhere from 4 to 24 hours of wait time before exposure to water.

What temperature range can I use AMP in?

AMP can be applied in extreme temperature ranges – from 0°-140°F.

Is AMP waterproof?

AMP provides a 100% waterproof and weatherproof seal and can be applied on wet or damp surfaces, reducing the amount of prep time, work, and reliance on perfect weather conditions.

Can I use AMP under water?

DAP does not recommend AMP hybrid sealants to be used underwater or for continuous underwater use.

Do I need to prep my seam before I caulk?

Surface preparation is important to ensure the best adhesion of the sealant to the substrate. We recommend all surfaces be clean, structurally sound and free of old caulk and foreign material the same day you plan to apply the product. If the joint width exceeds 1/2", use a foam backer rod. If mold or mildew is present in application area, apply a mold and mildew cleaner before applying AMP to prevent future mold and mildew growth.

How do I open the cartridge to get ready to use?

When you are ready to apply your sealant, load your AMP sealant into a standard caulk gun. Secure the cartridge and cut the nozzle tip at the desired opening (choose 3/16" for the recommended nozzle size for a perfect bead) at a 45° angle and fully remove plastic tip. Next, puncture the foil seal within the cartridge, below the nozzle. Ensure cartridge is secure, apply even pressure, and draw the nozzle along the seam. Ensuring you cut the nozzle tip clean with no jagged edges will ensure a clean bead during application.

What is needed to clean up AMP sealants?

Mineral spirits or any other solvent is required to clean up AMP sealants. If uncured AMP sealant needs to be cleaned up, scrape up as much excess product as possible, using a razor blade or non-abrasive scouring pad on natural or fiberglass surfaces, then use mineral spirits in a well-ventilated area to wipe away excess sealant. Avoid using solvents on skin.

If I only use half of a cartridge, can I use the other half of AMP at a later date? If so, what are the proper storage conditions?

Yes, the remaining product can be used when stored properly. If there is remaining product within the nozzle, seal the nozzle tip, and store below 80°F in a dry place. When ready to use again, remove cured product remaining in the nozzle and cut a new tip if desired.

How much coverage does AMP provide per cartridge?

AMP covers 49 linear feet at the recommended 3/16" bead.

How long does AMP last?

AMP is shelf stable for a minimum of 12 months from the date of production in an unopened tube.
description
Find Resources
Find what you need for your next job or project.
Search Resources
person
Customer Support
Our team of highly trained customer support staff is here to help with either product or project advice.
Contact Us