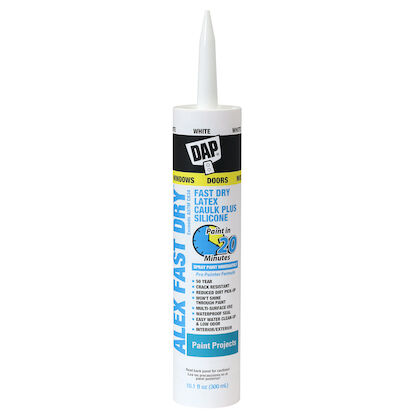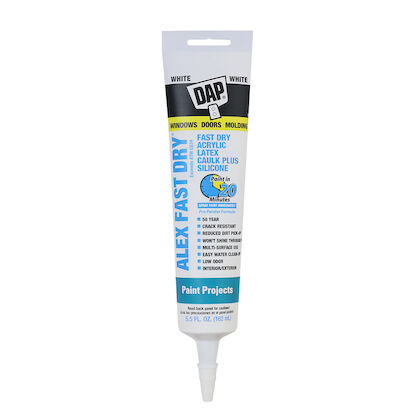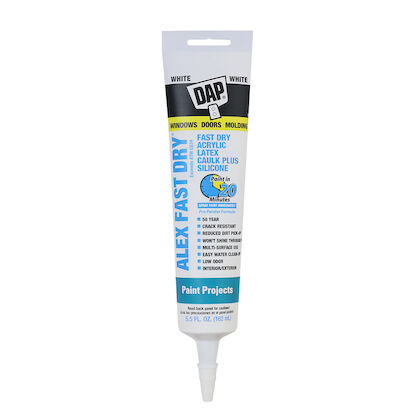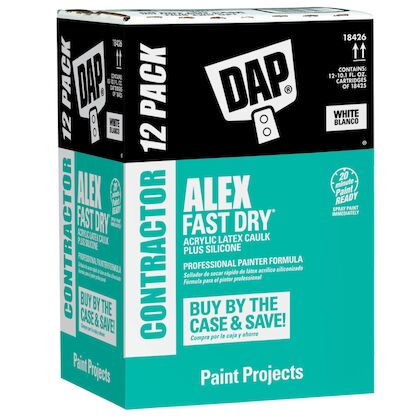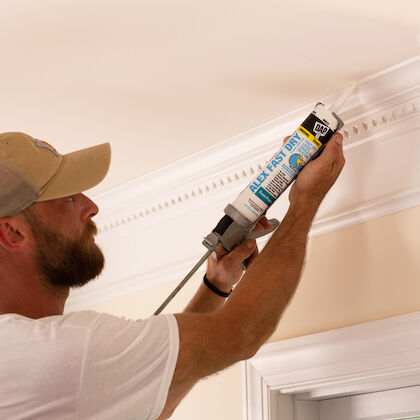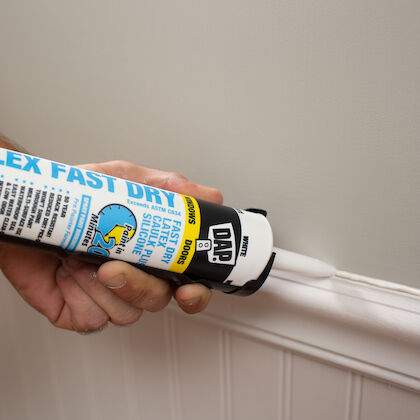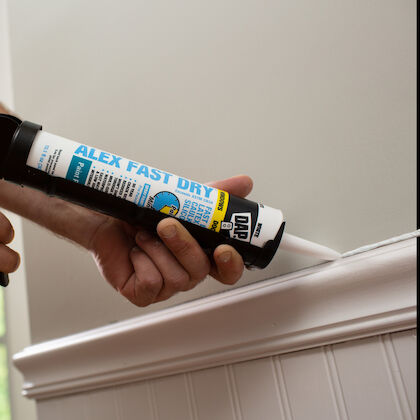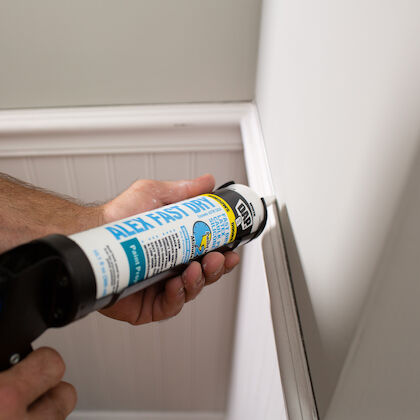 ALEX FAST DRY® Acrylic Latex Caulk Plus Silicone
Best For:
Fast drying and specifically formulated to meet the demanding needs of Professional Painters, delivering outstanding paint finish results.
Key Features
Paint Ready Time

Exceeds ASTM C834
Specifications

| SKU | Code | Unit Size | Color | Dimensions (in.) | Weight | Case Pack | Cases/Pallet |
| --- | --- | --- | --- | --- | --- | --- | --- |
| 7079818408 | 11425 | 5.5 FL OZ | WHITE | 9.875x5.625x3.5 | 4.06 lbs. | 6 | 408 |
| 7079818425 | 18425 | 10.1 FL OZ | WHITE | 8x6x12 | 14.75 lbs. | 12 | 108 |
| 7079818426 | 18425 | 10.1 FL OZ | WHITE | 8.25x6.35x11.75 | 14.75 lbs. | 1 | 108 |
| 7079818978 | 11425 | 5.5 FL OZ | WHITE | 7.5x7.5x10.125 | 6.03 lbs. | 9 | 120 |
FAQs

Is this caulk available in other colors?

No, it is only available in white

Can I use this in a shower?

No. The product is not applicable for use in a bath or shower.

The label says that this product is dry in 40 minutes, is it cured then, too. ?

No, cure time will vary depending on bead size and conditions, but could take 7 – 14 days to fully cure

What is the maximum joint size for applying DAP® ALEX® acrylic latex caulks?

The joint size shouldn't exceed ½" wide by ½" deep. If the joint depth exceeds ½", insert foam backer rod material into the joint before applying the sealant.

Can DAP® ALEX® acrylic latex caulks be used outside?

Yes, DAP® ALEX® acrylic latex caulks can be used in both interior and exterior applications. For exterior applications, they should be applied in temperatures above 40°F, and not when rain or freezing temperatures are forecasted before a full cure can occur. Cold weather and high humidity may slow down cure time.

What is the recommended clean-up for DAP® ALEX® acrylic latex caulks?

Before drying, they can be easily removed with soap and water. After the caulk has dried, it will need to be cut or scraped away.

Where can I use DAP® ALEX® acrylic latex caulks?

DAP® ALEX® acrylic latex caulks are ideal for filling and sealing gaps and cracks around window and door frames, molding, trim, baseboards, corner joints, and more. They have excellent adhesion to painted and unpainted wood, aluminum, vinyl, metal, brick, drywall, concrete and masonry.

What are paint shiners?

Shiners are unsightly glossy spots that appear when some flexible sealants are painted. DAP® ALEX PLUS®, ALEX FAST DRY® and ALEX FLEX® will not gloss or discolor paint.
description
Find Resources
Find what you need for your next job or project.
Search Resources
person
Customer Support
Our team of highly trained customer support staff is here to help with either product or project advice.
Contact Us