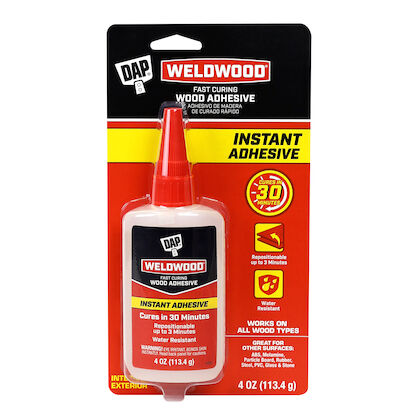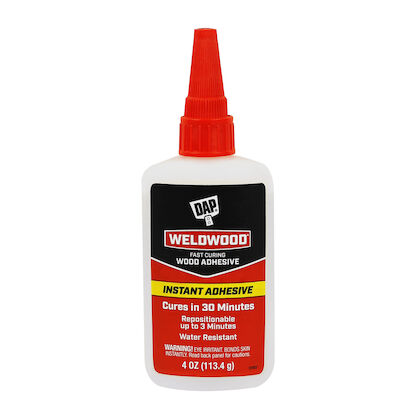 Weldwood® Instant Wood Adhesive
Weldwood Instant Adhesive creates a professional-strength bond that works on all wood types. Weldwood sets in 30 seconds and is ready to plane, sand, or stain in just 30 minutes, minimizing clamping time and getting you back to work faster. Weldwood Instant Adhesive is even repositionable for up to three minutes, giving you time to ensure PERFECT alignment. The clear water-resistant formula is good for indoor & outdoor use.
Key Features
Cure Time

Repositionable for up to 3 minutes
Specifications

| SKU | Code | Unit Size | Color | Dimensions (in.) | Weight | Case Pack | Cases/Pallet |
| --- | --- | --- | --- | --- | --- | --- | --- |
| 7079800131 | 00131 | 4 OZ | CLEAR | 8.75x5.31x9.25 | 2.75 lbs. | 6 | 310 |
FAQs

How is it that you can reposition up to 3 minutes, but it sets in 30 seconds?

After pressure is applied for 30 seconds the initial bond is formed. The bonded repair will cure in 30 minutes. If by chance you didn't get the initial positioning correct, you can still pull the assembly apart and reposition it within 3 minutes and apply more pressure for 30 seconds.

What if I need more working time?

Weldwood has an open time of 40 minutes – when it is applied in a bead and not spread or touched by both substrates. When you have a big project to complete where 3 minutes of reposition time is not long enough, apply adhesive to one side without spreading to give yourself more time to work. As soon as you use anything to spread the glue or touch both materials together to begin the squeeze out process you will only have 3 minutes of reposition time left to work.

How do I get Weldwood off my skin?

Use Acetone to get cured Weldwood off your skin. Make sure it is Acetone nail polish remover. The non-acetone stuff won't work. Wash your hands first to remove any un-cured adhesive with soap and water. Then wipe with an acetone soaked cotton pad. Do not try to pull or peel Weldwood off.

How long do I need to clamp with Weldwood?

You can clamp most projects for just 5 minutes. For the maximum strength bond achievable, clamp for the full 30 minutes.

How much should I use?

Just enough to cover the area you intend to bond with a thin coat of adhesive. If it is a wide area you will be bonding, apply the glue in an "S" pattern to apply enough glue to cover the bonding area when squeezed together. When you clamp the pieces together, you will need to wipe away any excess that squeezes out with a paper towel.

How do I remove dried adhesive?

Cured adhesive may be cut away with caution using a sharp blade or removed with acetone (if appropriate/compatible with your application surfaces).

Can I sand Weldwood?

Yes. Weldwood is sandable, stainable and paintable. If you have excess cured adhesive on your project, you can scrape or sand it away. And you can stain or paint the cured adhesive that remains.

What is the working time for Weldwood?

Weldwood is repositionable for up to 3 minutes. You can pull your pieces apart and realign them for a perfect fit for up to 3 minutes and still get a full strength cured bond. When bonding other materials to wood, like metal, plastic or glass, your reposition time will be less and can range depending on how much adhesive you apply. Don't apply pressure until you have your pieces lined up perfectly.
description
Find Resources
Find what you need for your next job or project.
Search Resources
person
Customer Support
Our team of highly trained customer support staff is here to help with either product or project advice.
Contact Us